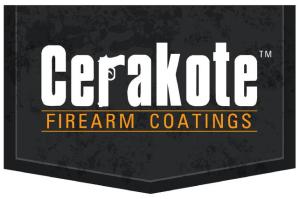 Cerakote out-performs any competitive gun coating in both laboratory settings and real world applications.
State-of-the-art, Cerakote™ Firearm Coatings provide a durable, weather and corrosion-proof, ceramic-based protective finish that resists scratching, chipping, and abrasive cleaning solvents. Hardener and paint chemically bond into an ultra-thin coating that adheres to almost any surface for a clean, professional finish.
Cerakote is the finest most durable firearms coating on the market today. Cerakote is a ceramic based finish manufactured by NIC Industries. It is used by more OEM firearms manufacturers than any other finish, including SIG Saur, Colt, Smith & Wesson, Thompson Center, FN, Nighthawk Custom and many others.
| | | |
| --- | --- | --- |
| | One Color | Two Colors |
| Whole Firearm* | $190 | $240 |
| Scopes & Optics | $95 | $135 |
| Stocks | $165 | $195 |
| Magazines (Min. 2) | $50 | $75 |
| Accessories | $50 | $75 |
(*) Whole Firearm = Rifle (Receiver, Barrel, Trigger Guard, Bolt Handle). Shotgun (Receiver, Barrel, Trigger Guard, Magazine). Handgun (Frame, Slide, Cylinder, Barrel) Discounts given when combining Stocks, Optics, Magazines or Accessories with a Whole Firearm* Refinish.
Please Note!
If the metal on your firearm is severely pitted or scratched, a charge of $65.00 per hour will be added for draw-filing to remove the pits and scratches, if possible.
Prices listed DO NOT INCLUDE shipping, handling, and insurance back to customer.
Prices may vary based on condition of firearm as well as volume of work being requested.
Please view our Sample Work page to see some of our recent work!