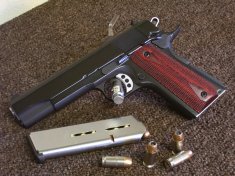 The process of hot bluing is designed to color and protect the steel on your firearm for a long time. Over a period of time, moisture, chemicals and routine handling remove that protection and make it subject to tarnish, rust and, eventually, pitting.
We use an extensive process to create or recreate a new and durable finish that, with proper care, will last for years. Below is a list of the different hot blue finishes we offer, along with a price for each.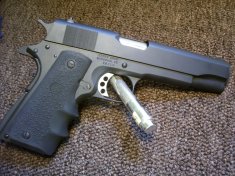 MATTE FINISH: The gun is bead blasted, then hot blued with Oxynate 7. This gives the firearm a non-reflective finish that is most desirable in the field.  Especially desirable to hunters who do not want the glare of a high gloss blued gun.
FACTORY FINISH:  Gun is finished with 240 grit polish, then hot blued with Oxynate 7. The result is as good or better than most factory guns sold today.
DELUXE FINISH: The gun is prepared as above and finished with 400 grit polish. This finish gives that deep black finish you find on the more expensive factory/custom firearms.
MASTER FINISH: Same as Deluxe finish but finished with the 555 series of polishes to a true mirror finish.  We can only accept guns which are in very good condition for this high quality finish.
Prices:
(All prices include: complete disassembly, oil and reassembly)
Single barrel rifles, pistols and shotguns
Complete Guns
| | |
| --- | --- |
| Matte finish | $200.00 |
| Factory finish | $215.00 |
| Deluxe finish | $250.00 |
| Master finish | $300.00 |
PLEASE NOTE!
If the metal on your firearm is severely pitted or scratched, a charge of $65.00 per hour will be added for draw-filing to remove the pits and scratches, if possible.
All aluminum parts that are to be refinished will be Duracoated  at an additional cost.
Prices listed DO NOT INCLUDE shipping, handling, and insurance back to customer.
Prices may vary based on condition of firearm as well as volume of work being requested.
Please view our Sample Work page to see some of our recent work!