Click Images to Enlarge!
Custom 280 Ackley
Defiance Action, Broughton Barrel, Jewel Trigger, Bell & Carlson Stock, Hollands Brake, Nightforce Optics
 
Custom Winchester 308
McMillan Stock, Bedded, Broughton Barrel, Tactical Bolt Knob, Detachable Magazine, Topped with Nightforce optics

Custom 280 Ackley
Stiller Action, Broughton Barrel, HS Precision Stock, Jewell Trigger
 
Barrel threading
We can thread your barrel and install a muzzle brake or suppressor adapter

Need your barrel Cut & Crowned?  We can do that for you!

Engraving  &  Slide Refinish!

We do custom engraving!  Call us for pricing & details.

Parkerized Finish on Stevens 520 Trench Guns
We applied a Manganese Parkerized finish on a batch of Stevens 520 Trench Guns for:
Counterfeit Trench Guns, LLC.
PO Box 9092
Bossier City, LA. 71113
(318) 746-4851
Please check out our Parkerizing page for information and pricing.
Sako AIII 7mm Rem Mag Custom Exhibition Grade Stock
Custom exhibition grade walnut stock with feather crotch.  Glass/Pillar bedded.  Floated barrel.  Limbsaver recoil pad.
AK-47 Duracoat Advanced AmStripe Camo
Thompson Center Encore .308   "DoomZilla"
Featured in Thompson Center's "One Good Shot" Magazine
We are proud to have recently had the privilage of having a small hand in the build of "DoomZilla", owned by Mr. Larry Boles out of Florida.  Larry sent the barrel to us and we Master Finish Hot Blued it.  "DoomZilla" is featured in Thomson Center's "One Good Shot" Magazine in the Winter of 2009 issue.  Check out the magazine for all the specs on "DoomZilla"!!
Custom 1911
Built from the ground up with all top of the line match grade parts.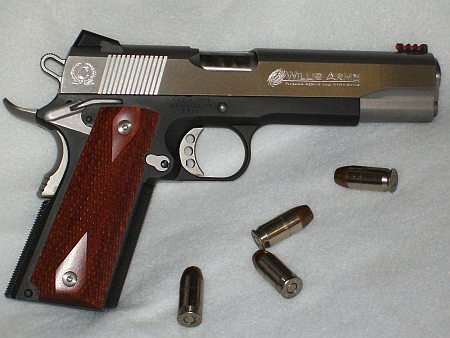 Custom CZ Benchrest Stock
This was another project for Mr. Larry Boles and his wife out of Florida.  Inletted stock, Glass Bedded the action and applied the finish.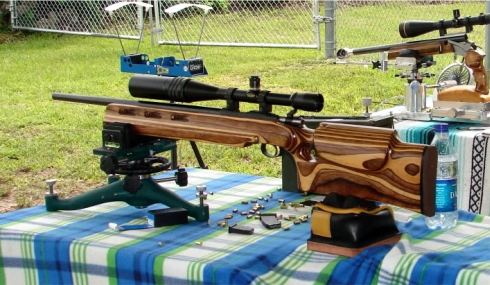 Custom 1911 .45 Build
This is a Custom built 1911 .45 that we built.  Using all match grade parts, the flats were polished to a mirror finish, then the gun was hot blued using Oxynate No.7 .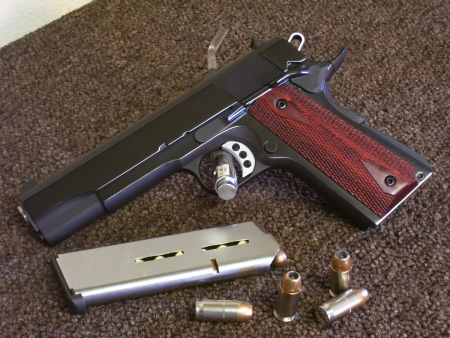 L.C. Smith SxS 12ga.
This L.C. Smith, mfg. in 1917, took a nasty fall which broke the buttstock off at the wrist.  Fit and finished a new stock in a satin hand rubbed oil finish.

Ruger BlackHawk .41
Shortened barrel to 4 5/8″ then reblued entire pistol.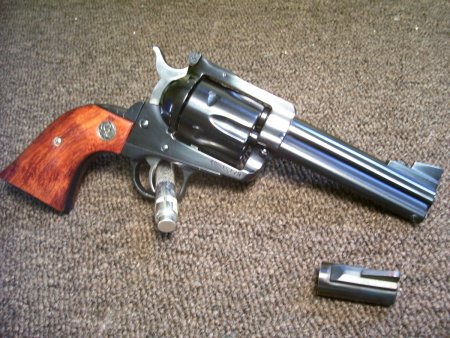 Ruger 77 MKII 7mm Rem. Mag.
Finished a Custom Claro Walnut stock, glass bedded the action, ground and installed a Limbsaver recoil pad, and free-floated the barrel.  Did a trigger job, cleaned and polished the barreled action.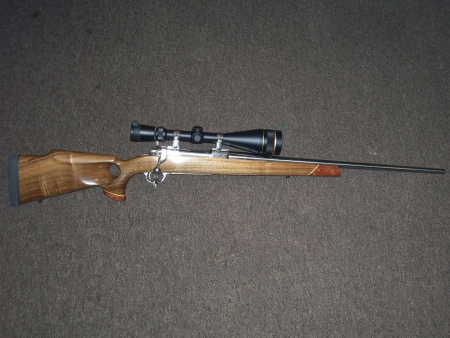 Custom OTT Encore Barrel
Took this matte finished OTT barrel and gave it a Master Finish hot blue.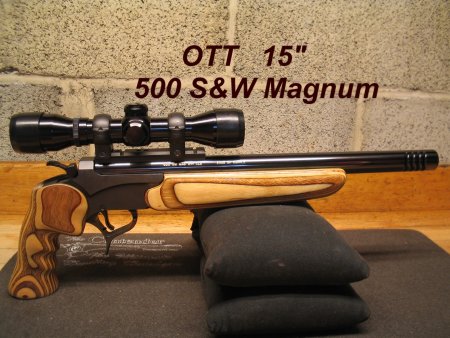 Winchester Model 70 Thumbhole Stock
Fit and finished this custom walnut thumbhole stock.  Glass bedded the action, floated the barrel and installed a LimbSaver recoil pad.  Gloss finish.
Ruger MKIII .22lr  Threaded Barrel / Installed Suppressor