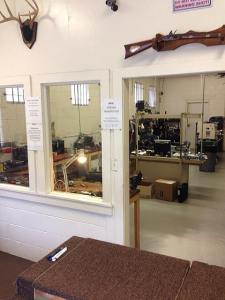 Shop Fees:
$65 per man hr
$80 per man & machine hr
$35 minimum charge per firearm
Prices listed DO NOT INCLUDE shipping, handling, and insurance back to customer.
Repair:
| | |
| --- | --- |
| General Gunsmith labor | $65/hr |
General:
Complete Cleaning
(Complete Disassembly, safety check, oil and reassemble –
Bolt Actions, Pumps, Autos & Levers)
$50
Check headspace
$15
Test-fire firearm
$10 + ammo
If I have to take the gun apart
$35
Mount & level scope + bore sight
(plus $10.00 to have the rings lapped)
$25
Remove stuck case from chamber
Hourly Rate
Remove live round from chamber
$100+
Make chamber cast
$65
Specialty:
Install adjustable trigger
$40 + trigger
Trigger Job
$50 +
Drill & Tap (per hole)
$15
Fill a hole
Call for quote
Weld on bolt handle
(Price does not include finishing the metal)
$65 + handle
Any scope base installed
Base + $15/hole
Install a recoil pad
$50 + pad
Custom or adjustable pads/plates
Call for quote
Glass bed action
$80
Cut and Crown Barrel
$50
Install Muzzle Brake
(Price includes threading & installing Brake of your choice)
(Seamless/streamline fit, indexing and or refinishing, if needed, extra)
$100 + Muzzle Brake
1911 Services:
Complete Build
Call for quote
*Beavertail safety installed
(.250 radius safety)
$80 + safety
Reliability package
$95
*Lower and flare ejection port
$50
*"No-Bite" modification to spur hammer and grip safety
$40
*Bevel magazine well
$50
*Round/bevel all sharp edges of entire pistol
$80
*Round/bevel all sharp edges on just slide
$40
Install Novak Sights
(Front Novak dovetail cut)
$50 + sight
(Rear Novak dovetail cut)
$90 + sight
(Front & Rear Novak dovetail cut)
$125 + sight
All services marked * require full or partial refinishing not included in the price.
Call for other services.
Metal Refinishing:
Please click on one of our Metal Finishes pages in the menu to see a full list of options and prices!
Woodworking/Stocks:
Please view our Stock Refinishing page here to see a full list of options and prices!
Please view our Sample Work page to see some of our recent work!
If there is a service that you need done that is not listed above, please contact me about it.  More than likely it is something we can accommodate.