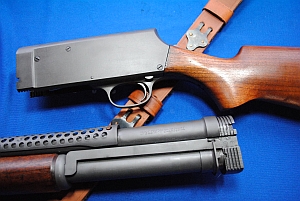 Due to Heavy back log we are not taking in Parkerizing at this time.
We offer Mil Spec STD171 Manganese Phosphate Parkerizing.  Manganese Phosphate produces a tough, rust resistant finish on iron and steel that is highly resistant to corrosion, very durable and long wearing.  Manganese phosphating produces a medium to dark-gray or black finish, however color may vary depending on the alloy make-up of the steel.  Color variations are generally achieved by different lubrications used, such as gun oils, cosmoline, etc.  If you are looking for one of the toughest finishes for firearms this is the one.
| | |
| --- | --- |
| Parkerize Pistols | $175.00 |
| Parkerize Long Guns | $185.00 |
| Duracoat Aluminum Trigger Guards | $35.00 |
Please Note!
If the metal on your firearm is severely pitted or scratched, a charge of $65.00 per hour will be added for draw-filing to remove the pits and scratches, if possible.
Prices listed DO NOT INCLUDE shipping, handling, and insurance back to customer.
Prices may vary based on condition of firearm as well as volume of work being requested.
Please view our Sample Work page to see some of our recent work!